I didn't see a photo thread, so I thought I'd get one started, and test-drive AcidDragon's cool Gallery feature!
Apologies for my low-rez camera phone pics...
So I generally do themed "team" displays, typically tied to something I'm watching (e.g., Superfriends with the kids), or reading (really looking forward to Ozymandias, at which time I will mothball one of these displays, do a Watchmen display, and get out the books - I still have the original run, not the trade! - pour a scotch, read and play!).
I know it gets a lot of hate, but I adore my Superfriends collection. My son will be seven in November, my daughter just turned four. A couple of years ago I put in some JLU episodes, and realized they were a bit intense for the short people in the house; I bought a few Superfriends DVDs and all was well in the world again. Totally cheesy, but I love
Ted Knight's
narration, the triumphant music, and those crazy trio of white lights to segue into the next scene ("Meanwhile, at the Hall of Justice!"). The kids love seeing these - Apache Chief and Aquaman are kid favorites!

Here's my JLI, loosely based on the display for Volume 4 of the trade; tough to pick which volume since this one didn't have Barda in it! Notice how Scott is in a dynamic crouch to make Barda bigger. Awesome side-effect of Fire being a little small? Barda looks bigger!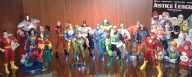 Here's my JSA, loosely based on the cover of the trade collecting the Johns' run. I must admit I haven't read the book yet - it was a birthday gift from (ahem) two years ago. Putting it on the shelf is supposed to guilt me into reading it, but so far all I did was play with the figures.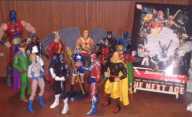 Here's the rest of the JSA that didn't make it into the Alex Ross cover:

Finally, here's Apokolips, in all its glory. Since I came late to DCUC collecting, I missed the day when I could have army built Parademons by buying extras (and they were so much cheaper then!), so I had to build my "army" the ugly way - the ebay way.