First please allow Me to commentate on one of My favorite subjects

Are you a big wrestling fan? If you are discuss all your fond memories and why you are the big wrestling fan you today!
Why I love it: It all began in the late 80s, as a youngster I just loved how big and tall those guys were and the way they acted and looked. I watched WWF and NWA/WCW. I loved Hulk Hogan, the Ultimate Warrior, Macho Man Randy Savage, Ric Flair, Lex Luger, Sting, Sid Viscous and many others, My Grandparents loved it especially My Grandpa. My Mom liked it sometime ago because she digged some of those guys. Hulk Hogan quickly became one of My childhood heroes along with Jesse Ventura. Wrestling was just fun and just plain cool! Wrestling figures was a must for Me even until recently.
A little commentary: I loved the 80s to begin with but the 80s wrestling was just so good. As the 90s came wrestling was really changing with the Monday Night Wars and of course the Attitude era. Loving the 80s so much it was kinda hard to grip the later 90s. After the demise of ECW & WCW I stopped watching it. Come to the late Summer of 2010 I started watching TNA Impact Wrestling then started watching WWE in the Summer of 2011. It was difficult to know and like new guys like John Cena, Randy Orton, CM Punk, The Miz, Daniel Bryan but I was already used to guys like The Undertaker, Kane, HHH, Mark Henry, and The Big Show. Come now in 2012 I like the new guys a lot now and like many of the things that is currenty going on in WWE but sometimes I think back and miss the 80s, early and middle 90s and even the Attitude era. Wrestling is like Life, constantly evolving.
For You to Do: Are you kinda like Me and is old school and like the older wrestling stuff or also like Me and like it all? Do you currently watch WWE or TNA or both today? Tell Me who is your favorite wrestlers and why and what was your favorite matches and so on. Do you have dream matches that you wish had taken place but never did? Ask Me questions of who I like and so fourth, lay it all down on Me, I'd love and appreciate that

Here is 15 moments of things I'm currently thinkin' about

The Event that got Me hooked on Wrestling!
Hulk Hogan and the Ultimate Warrior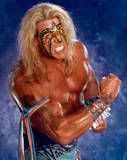 Andre the Giant
The Times of Ric Flair